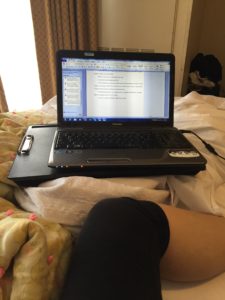 Two weeks ago I got to take part in something truly amazing. I belong to ANWA (the America Night Writing Association). For the past several years I've attended our annual Southwest retreat. Usually we have it up in Show Low Arizona, but due to wildfires, we had to keep it close to home.
I love going to writing retreats. I did one with most of my critique group back in May, and I was so happy to go to another one in June. I get so much accomplished there. Also, there is something amazing that happens when you surround yourself with writers. Creativity becomes thick in the air. Seriously though, the atmosphere is conducive to writing and creating.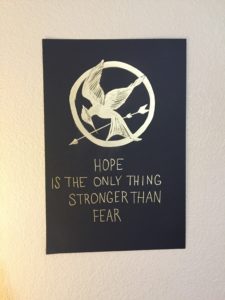 Every year a theme is chosen. They're always literary based. This year we called in The Writers' Games. May be a little corny, but I loved it. My talented friend Dena did all this artwork by hand. She's amazing. I'm just sad I forgot to take a picture of the life size Effie Trinket. What I loved the most was the motivational posters that we're around. Like the one to the right here. I think as writers and really people, we let ourselves get bogged down. We feel as if we aren't good enough. Like the rest, it's hard to get rid of the fear, but hope, hope is that tiny little kernel waiting to grow.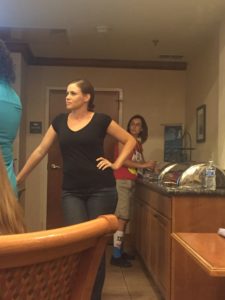 Another cool thing was being able to listen to April Lynne Pike. She's a #1 New York Time's Bestseller for the Wing's series. Amazing books, I recommend them. Also side note, I took all these photos on my phone. I promise one day I'll take better ones. Anyways, April Lynne was our keynote speaker. She said some things that really resonated with me. Mainly, that I have time to write. We all waste a lot of time on social media, Netflix, and television, and I could instead be writing. I've taken that to heart. I have time, I just need to use it wisely.
I had an amazing time at my writing retreat. I almost always do. Except two years ago when I fell down a flight of stairs. In my defense they were highly waxed pine steps. But really, it was amazing and I got somewhere around 6000-7000 words written on a new project. And I also got to spend time with some of my dearest friends. Nothing like shoving 5 women into a hotel room together or about 30 into a small (and I mean tiny) dining room. I got to be with some many fellow authors. All of them on different parts of the publishing road, but I loved it. I'll include some book links at the bottom for you to check out. Now I just have to wait for our annual writing conference in September.